The Corris Railway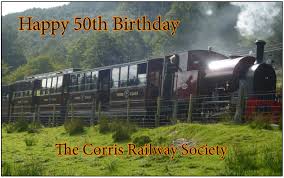 The Corris Railway (Welsh: Rheilffordd Corris) is a narrow gauge preserved railway based in Corris on the border between Merionethshire (now Gwynedd) and Montgomeryshire (now Powys) in Mid-Wales.

The line opened in 1859, and originally ran from Derwenlas, south east of Machynlleth north to Corris and on to Aberllefenni. Branches served the slate quarries at Corris Uchaf, Aberllefenni, the isolated quarries around Ratgoed and quarries along the length of the Dulas Valley.

The railway closed in 1948, but a preservation society was formed in 1966, initially opening a museum; a short section of line between Corris and Maespoeth was re-opened to passengers in 2002. The railway now operates as a tourist attraction. A new steam locomotive was built for the railway, which was delivered in 2005. The two surviving locomotives, plus some of the original rolling stock, are preserved on the nearby Talyllyn Railway.

The gauge of the railway is 2 ft 3 in (686 mm). (Wikipedia)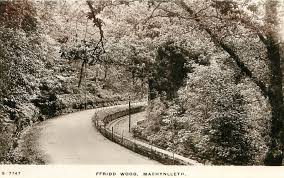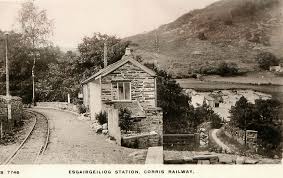 COR1
MAIN ROUTE
m
c
m
c
place
slate, open
slate, closed
passenger,
open
passenger,
closed
reopened
8
43
Capel Ratgoed (Tramway)
1/4/1859
20/8/1948
6
33
ABERLLEFENNI - limit for locomotives
1/4/1859
20/8/1948
25/8/1887
1/1/1931
6
8
Matthew Mill Siding
1/4/1859
20/8/1948
5
65
GARNEDDWEN HALT
1/4/1859
20/8/1948
11/1887
1/1/1931
5
0
0
CORRIS
1/4/1859
20/8/1948
25/8/1887
1/1/1931
3/6/2002
6
Braichgoch Farm
4
22
49
Maespoeth Junction, with COR2
1/4/1859
20/8/1948
MAESPOETH
3/6/2002
56
MAESPOETH Platform South
58
Former end of line
66½
Current head of steel
3/2017
67½
Brynllwyd South Access
1
5
Pont Goedwig
1
21
GEODWIG SOUTH
?2019
3
59
1
63
PONT EVANS
1/4/1859
20/8/1948
3
44
1
78
ESGAIRGEILIOG HALT
1/4/1859
20/8/1948
5/1884
1/1/1931
2
40
TAN-Y-COED - proposed end of line
2
22
LLWYNGWERN HALT
1/4/1859
20/8/1948
5/1884
1/1/1931
1
51
LLIWDY HALT
1/4/1859
20/8/1948
1/1/1931
1
20
DOLDDERWEN CROSSING
1/4/1859
20/8/1948
4/7/1883
1/3/1931
38
FRIDD GATE HALT
1/4/1859
20/8/1948
7/1887
1/1/1931
27
Dovey Bridge
1/4/1859
20/8/1948
0
MACHYNLLETH
1/4/1859
20/8/1948
4/7/1883
1/1/1931
Corris, Machynlleth & River Dovey Tramroad 1859-1864
MACHYNLLETH
1/4/1859
1864
Cambrian Railway over bridge
1/4/1859
1864
Ysgol Bro Ddfyfi (footpath)
1/4/1859
1864
Derwenlas
1/4/1859
1864
CEI WARD (Morben)
1/4/1859
1864
CWI GOGH (Carreg)
1/4/1859
1864
COR2
UPPER CORRIS TRAMWAY
1
58
End of line
1/4/1859
1941
1
49
Abercwmmeiddaw Quarry
1/4/1859
1941
1
22
Abercorris Quarry
1/4/1859
1941
60
Braichgoch and Gwaewern Quarries
1/4/1859
1941
0
Maespoeth Junction, with COR1
1/4/1859
1941
New terminus at Corris Map

Another part of the Extension Plans includes a new version of Corris Station. The original building was highly unusual for a British narrow gauge line in that it had an overall roof to protect passengers from the weather when the weather fronts came ashore and ran up against the mountains of Snowdonia. Sadly this iconic structure was finally demolished in 1968.

However we would like to partially recreate the scene as it once was and you can see what we wish to achieve elsewhere on this website. We have consulted with local residents and other stakeholders (and are continuing to do so) about our plans but as we extend and our trains become longer and busier the present layout just will not do. Construction timetables for the station part of the project will be subject to many factors, not least the cost of construction, but rest assured that any money going towards the Southern Extension is helping to bring forward the day when an engine will steam under a station roof at Corris once more. corris.co.uk

Southern Extension to Geodwig South

It has always been the intention to rebuild the Corris Railway southwards from Corris, through Maespoeth Junction and down the beautiful Dulas Valley to the Forestry Commission site at Tan-y-Coed. Once completed this will give our passengers a run of over two and three quarter miles in each direction from the new station that will have to be constructed at Tan-Y-Coed, through the surviving original Corris station at Esgaergeiliog and Maespoeth Junction to an improved station at Corris that will partially recreate the original iconic overall roofed structure. Read more...


| | |
| --- | --- |
| | |
The author - Leslie (Lez) V Watson - has asserted his right under the Copyright, Designs and Patents Act, 1988, to be identified as the author of this work.
I use Notepad++ script editor and Firefox web browser.
♣


v19.3 :: November 2018